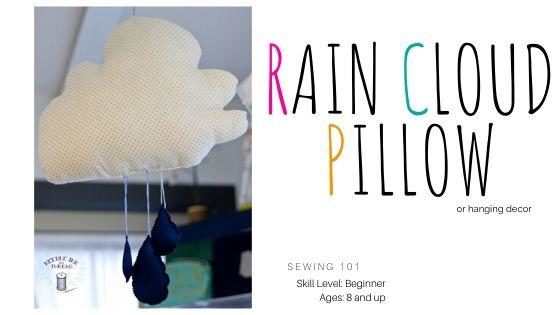 Date
Mar 25 2020
Expired!
Rain Cloud Pillow -Sewing 101
Prerequisite: Sewing 101 – Basic sewing knowledge – book a private lesson to catch up before the class!
Skill Level: Beginner

Ages: 8 and up
Class Max: 6
Bring:
1/2 yard quilting cotton – any print
1/8 Yard quilting cotton (shade of blue – water drops)
Spool of all-purpose polyester thread

Size 12 or 14 Microtex
sewing needles
Bag polyfill

Sewing Kit

Marking tools

Sewing Machine
(if you want to use yours, must be in working condition)
 Supplies included with class:
Project pattern and instructions for you to take home so you can make these again and again!
Sewing Machine (please let me know when checking out in the notes section if you would like to use one of mine).
Embroidery Thread to make raindrops "float" and if they want to make a tie to hang from the ceiling.
This post does have affiliate links to Amazon, you pay the same price however they provide a little kickback on all purchases through the links**