Hudson Pants Workshop – Garments 201 – Sat Apr. 4th 10 AM – 3:30 PM
$165.00
Hudson Pant by True Bias – All Day Workshop
The Hudson pant is the piece of clothing that you will wear all of the time. It is comfortable enough to wear around the house, but can easily be dressed up to go run errands. The urban fit of these pants leaves a bit of extra room around the hips and then tapers into a skinny leg. View A is a full-length pant and View B is midcalf.
Prerequisite: Sewing 101 – Basic sewing knowledge, Pattern sizing and how to read a pattern  – book a private lesson to catch up before the class!
Skill Level: Confident Beginner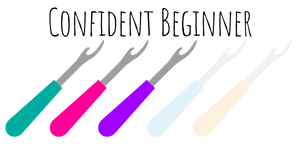 Ages: 14 and up
Class Max: 4
Please arrive no more than 10 min before the workshop start and bring all the listed materials.
This is a fantastic class if you have a serger and know how to use it!!!
Out of stock
Description
Prerequisite: Sewing 101 – Basic sewing knowledge, Pattern sizing and how to read a pattern  – book a private lesson to catch up before the class!
Skill Level: Confident Beginner

Ages: 14 and up
Class Max: 4
Bring:

Hudson Pants Pattern – You can purchase through True Bias website (Women, Men and Kids patterns on site as well!)
Pattern printed and taped together with your size highlighted and ready to cut out.
(contact ARC Doc Solutions on Third and Wayne to have printed large format – use copyshop file – trust me you will be so happy)
Fabric type must be Medium to heavy weight knits
such as french terry
, Ponte
, and sweatshirt knit
with a suggested stretch of 40% – 75% – Fabric amount will be determined by the size you are making (PRE WASH YOUR FABRIC PLEASE – very important)
1.5 yds – 2" wide elastic 

2-3 yds – 1/4" wide cording 

2" x 1" scrap of fusible interfacing

Spool of matching (color)  all-purpose polyester thread
or 4 spools of serger thread if planning on using the serger
Size 14 Jersey
/Ballpoint
/Stretch
sewing needles (if using a sewing machine)
Sewing Kit

Marking tools

Sewing Machine
(if you want to use yours, must be in working condition)
OR Serger
(if you know how to use, schedule a private sewing lesson prior to class to learn!)
 Supplies included with class:
Sewing Machine (please let me know when checking out in the notes section if you would like to use one of mine).
This post does have affiliate links to Amazon, you pay the same price however they provide a little kickback on all purchases through the links**
Pattern Details
PATTERN DETAILS
PATTERN SIZE CHART (INCHES)
| SIZE | XS | S | M | L | XL | XXL |
| --- | --- | --- | --- | --- | --- | --- |
| Upper Bust | 30 1/2 | 32 1/2 | 34 1/2 | 36 1/2 | 38 1/2 | 40 1/2 |
| Bust | 33 | 35 | 37 | 39 | 41 | 43 |
| Waist | 25 1/2 | 27 1/2 | 29 1/2 | 31 1/2 | 33 1/2 | 36 |
| Hip | 35 1/2 | 37 1/2 | 39 1/2 | 41 1/2 | 43 1/2 | 45 1/2 |
FABRIC REQUIRED (YARDS)
| SIZE | XS | S | M | L | XL | XXL |
| --- | --- | --- | --- | --- | --- | --- |
| Dress (44″ Wide) | 3 | 3 | 3 | 3 1/2 | 3 1/2 | 3 1/2 |
| Tunic (44″ Wide) | 2 | 2 | 2 | 2 1/2 | 2 1/2 | 2 1/2 |
REQUIRED SEWING TECHNIQUES
REQUIRED TOOLS
Sewing Machine
Iron & Ironing Board
Pins
Measuring Tape
Fabric Scissors
Seam Gauge
Tailor's Chalk
REQUIRED SUPPLIES
Elastic Thread
Interfacing
Thread
Microtex Needle
Class Policies
Class Cancellation Policy & Payments
• Full payment is due upon signing up.  (In the shop, on the phone or through the website)
If you prefer to pay by cash, please come to the studio any TUESDAY 11 am – 6 pm to prepay before the class or credit card. Registrations are not complete until payment is received.
• 100% of fees credited to another course if the student cancels4 days before the scheduled date.
However, you will need to reschedule within 15 days and scheduled for no more than 30 days from the original class.

The class fee is forfeit if not rescheduled within this timeframe.
•IF CANCELLATION LESS THAN 4 DAYS before the registered class date, there will be no credit.
No exceptions, this ensures that other students waiting for a seat are not missing learning opportunities due to late cancellations.
• No-shows give up any refund or exchange.
**Classes canceled by the studio will receive class credit.
We try to limit classes canceled however there may be times that a class will be canceled and if this happens, you will receive an email with a coupon code to reschedule your class at your convenience. If you would prefer that I put you in the next class scheduled automatically, please just let me know. 

Bulk Bookings for Classes – FINE PRINT
Use code 4CLASSES to get a $25 off when registering for four classes at one time!
Please understand when registering for the discounted rate that you will NOT be able to reschedule classes that are purchased in bulk.
You will have to adhere to the times and dates you choose at checkout.
I will allow 1 time per account and you must notify me at least 1 week prior to needing to reschedule and you will be charged a rescheduling fee ($25) due to the nature of booking in bulk, it's hard for me to try to schedule a group class or rebook with another student.
Due to bulk booking, it removes class availability for others to schedule.
Times:
All classes start and end on time. Please be prompt, if you can come up with 5 minutes early for set up.
Please do not come more than 5 minutes early to the studio; I will be getting there 15 min before to set up for the class.
If you use freeways to get to us, be aware of the rush-hour traffic, please plan accordingly.
If you are over ½ an hour late, you will need to schedule a private lesson at your cost. You might miss out on precious information.  I might not be able to catch you up if it's a full class, please make sure you give yourself time for traffic and travel.
Returns/Refunds:
No Refund or Transfer of funds, if upon cancellation is 4 days or less before the start of the class.
If you are canceling before the 4 day cut off will result in a CLASS Credit only.
**Updated 10/1/19
Refund and Return Policy
No Refunds or Returns.
If there is damage during shipping, I will do my best to replace the item quickly.  
Contact me within the first two days of receiving the product and email me with a picture of the damaged product (after opening the container), along with a photo of the shipping container before the product was opened.
** I want you to enjoy what I make, but it is the BUYERS responsibility to notify me of any issues promptly. **