Sewing Basics – PJ Pants – Intro to Garment Construction
$85.00
Skill Level: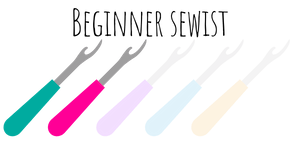 You will need to measure your waist and hip; please send those measurements to me via email. I will provide the correct pattern, and you will be able to take home and keep it!
Out of stock
Description
PJ pants
PJ pants are a fantastic way to get introduced into sewing garments. They are a fun and fast sewing project that has six pieces total to sew together. In this class, you to learn about putting pattern pieces together and finishing techniques!
Sewing Basics (or equal skill – can thread the machine, fill a bobbin, use seam allowance)
Skill Level: 
Ages: 14 + (adults are welcome)
What you need to bring: — Please CONTACT ME with any questions
Matching Thread
Sewing Needle – Size 12 or 14 Microtex or Universal
1 yard of 3/4 inch wide no roll elastic 
 or 4 yards of 3/4 inch twill tape
*** Prewash your fabric***
Fabric:
45-Inch (quilt weight cotton)
Small to Large = 3 yards
XL-XXXL = 3.75 yards
_________
60-inch Fabric (fashion fabric)
Small – Med = 2.5 yards
Large – XXXL = 3.25 yards
__________________________________________________________________
How to know your size – It's not the same as a dept store.
-Pants are to be worn 1″ below natural waist  — also, they have POCKETS!
___________________________________________________________________
Small = 34-36″ waist and 41-43″ hip
Med. = 39-42″ waist and 45-47″ hip
Large = 44-46″ waist and 49-51″ hip
XLarge = 48-50″ waist and 53-55″ hip
XXL = 52-54″ waist and 57-59″ hip
XXXL = 56-58″ waist and 61-63″ hip
Sewing Machine (if needed) – if you need yours to be serviced, check out this list of local shops!
Pattern and Instructions
A snack ––

please nothing with nuts as a precaution for all students
Class Policies
• Full payment is due upon signing up.  (In shop, on the phone or through the website)
If you prefer to pay by cash, please come to the studio any TUESDAY 11 am – 6 pm to prepay before the class or credit card. Registrations are not complete until payment is received.
• 100% of fees credited to another course if the student cancels 72 hours (3 days) before the scheduled date.
However, you will need to reschedule within 15 days and scheduled for no more than 30 days from the original class.

Class fee is forfeit if not rescheduled within this timeframe.
•IF CANCELLATION LESS THAN 72 HOURS, there will be no credit.
No exceptions, this ensures that other students waiting for a seat are not missing learning opportunities due to late cancellations.
• No-shows give up any refund or exchange.
Times:
All classes start and end on time. Please be prompt, if you can come up with 5 minutes early for set up.
Please do not come more than 5 minutes early to the studio; I will be getting there 15 min before to set up for the class.
If you use freeways to get to us, be aware of the rush-hour traffic, please plan accordingly.
If you are over ½ an hour late, you will need to schedule a private lesson at your cost. You might miss out on precious information.  I might not be able to catch you up if it's a full class, please make sure you give yourself time for traffic and travel.
Returns/Refunds:
No Refund or Transfer of funds, if upon cancellation is 72 hours (3 days) or less before the start of the class.
If you are canceling before the 72 hours cut off will result in a CLASS Credit only.
**Updated 6/21/17
Refund and Return Policy
No Refunds or Returns.
If there is damage during shipping, I will do my best to replace the item quickly.  
Contact me within the first two days of receiving the product and email me with a picture of the damaged product (after opening the container), along with a photo of the shipping container before the product was opened.
** I want you to enjoy what I make, but it is the BUYERS responsibility to notify me of any issues promptly. **