Recipes : Crunchwrap or Crunchwrap Supreme – Meat, Vegetarian or Vegan Style!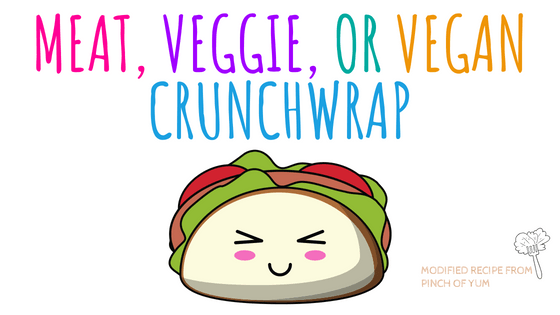 What you need to make this crunchwrap
<Let's Make It>
Put all your "base" foods on the tortilla. (tofu, crumbles, or ground beef, then black beans, cashew queso, rice, roasted cauliflower)
Then we will work on your crunchy layer –

Tostadas are the easiest way to create a uniform crunch.
Doritos, tortilla chips, or Hot Cheetos are a fun way to mix it up.

Next to the fresh stuff

lettuce, tomato, jalapeno, marinated cabbage, cilantro, etc.
Finish this layer with something to help the top tortilla hold, like smashed avocado or sour cream.

Place a smaller tortilla on top to avoid anything spilling out. (use a soft taco sized tortilla or cut a burrito size down)
Then fold in the sides of the bigger tortilla shell, pulling the edges in towards the center, one over the other, to make a secure closure. You don't want the good stuff inside to squish out.
After that, in a hot skillet and heat a little oil or butter. Place crunchwrap into the pan and cook until crispy golden brown.
Once that is done, cut in half and serve.

Optional: add more cashew or regular queso to the outside of the wrap or put it in a bowl for dipping.
Prep Time:

30 minutes

Cook Time:

15 minutes

Yield:

enough filling for 4-6 crunch wraps!
Also, check out this delicious recipe!