Summer Camps, Mask Policies and Studio Updates!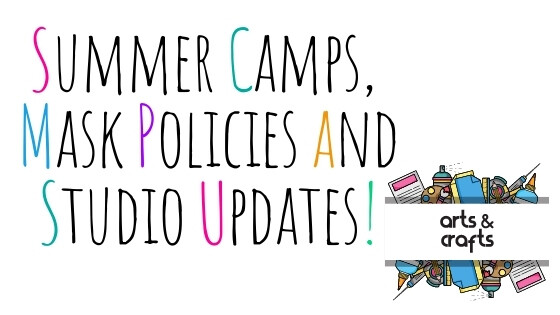 First off Masks
The studio will continue to require masks during group classes as well as shopping or entering the studio. I will continue to monitor the cases and change policy when I see fit.
I work with students of all ages and all medical conditions, I am keeping the mask requirement to protect them.
In private lessons, I am offering if you are wanting to go maskless, that you provide proof of being fully vaccinated, I will show you my proof. If you don't want to have me verify, we will have to wear our masks. I am totally ok with either way. I want to be flexible but protective as well.
Thank you for understanding!!
Summer Camps!
Summer camps are starting full swing this week! There are lots on the calendar and will be adding in July camps as well as group garment classes! I am super excited to be able to hold camps this year after not getting to do anything last year!
This year I have included a Kids – Intro to Sewing 1.5-hour group class as a requirement for those that are taking any of the classes that require sewing on a machine. IF your child is already taking private lessons and not within the age group, please contact me to see if they are ok to take a class that they might not fall within, I am totally open to younger students coming if they are able to be self-reliant and focused. Also please know that all students are required to bring materials listed or purchase them at the studio as well as have a sewing kit
of their own as I will not have supplies (sewing kits) for students to use.
Studio UPDATES!
The studio has gotten some major upgrades since the Grand ReOpening in April! Fabric is starting to deliver weekly as well as new notions, patterns, and gift items! I am also working on getting more open hours for retail. Since I am a single-employee business, it's hard to be open while teaching.. so I am utilizing my friends and family to run the front of the house while I am teaching.
We will have the hours/dates worked out soon for more consistent times.
We have purchased enough irons for each table and new sewing machines as well! The next items will be sergers!! I am so excited to be getting the studio set up for years to come!
Also check out this awesome group class coming soon!!! register with the teacher all details on the flyer!