Fall into Love; 10 Sewing Patterns Perfect for Autumn – 2017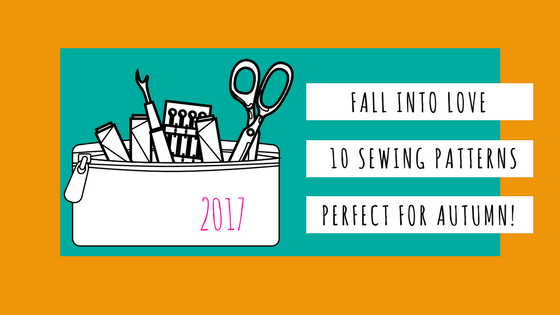 Ten fall friendly items to make for your autumn wardrobe!
In Ohio, the fall is a great time to wear those light sweaters, cardigans, jeans, leggings, sweater dresses, and lightweight hoodies. The days are warm, but the nights cool off to almost chilly! I love my jeans and a tee with a cute cardigan layered with a hoodie if needed. This time of year, thinking about the fall makes me want to snuggle up for a haunted hayride and drink pumpkin drinks! But it's the best time of year to wear those staple layering garments.
I searched the internet high and low to find adorable yet straightforward patterns to get your fall/winter wardrobe started!
Top 10 designs to make to wear in the fall/winter!
I have looked for my favorites, new and older patterns, to pair a nice mix of clothing paired in different ways and dressed up or down depending on the fabric and accessories chosen!
#10
A perfect wrap dress is something that every girl needs in their closet. It's a quick way to dress up or down, depending on your shoes and accessories as well as your choice of fabric. I love the look of this wrap dress. It's not a traditional look but will turn some heads!

#09
True Bias – Hudson Pant
The Hudson Pant is the perfect fall pant! These are a quick sew and look great on most body types! If you make it from a sweater, knit, it would be ideal for the colder nights by the fire.
#08
Deer & Doe – AUBÉPINE DRESS
What a fun way to spruce up a simple dress! I love the pintucks on this! I can imagine this with cute cardigan leggings and boots for those colder nights! Perfect for work or play!
#07
Closet Case Patterns – Charlie Caftan
The perfect day or night dress! Made from linen or Satin, it would be stunning for a night out on the town! Knee or Maxi lengths give you a chance to make it fun or elegant!
#06
Debbie Brooke Designs – My Dress
I was lucky enough to pattern test for Debbie Brooke Designs a few times, her patterns are fantastic, and this one is so much fun! I will say this is still one of the dresses I recommend to my sewing students. It is a fantastic pattern; directions are spot on! A staple garment made casual in cotton or rayon or using higher-end fabric for a more expensive look. This is a quick sew and lined. She may make it as maternity as well, which is so awesome! Perfectly paired with a cardigan or a scarf, it's perfect for any occasion!
#05
Grainline Studio – Archer Button Up
The Archer is a classic button-up shirt. In the colder months, these are perfect; They can be made from silk chiffon
, charmeuse
, crepe de chine
, cotton shirting
, chambray
, lightweight denim (like Art Gallery Denim
.. oh so soft!), or flannel
! Grainline instructions are so easy to follow, and the tips/tricks make your garment stand!
#04
Sew to Grow – Fall into Love Cardigan
So I figured since I love cardigans and keep talking about adding them into the mix. I love this one! I have made a few in different knit weights; I even added pockets to a few! I have also been lucky enough to pattern test for Sew to Grow as well! Great pattern by one of my favorite Indie Designers.
#03
A great pair of pants is perfect for the colder month; I love these Thurlow Trousers; I recently made a couple from denim purchased from Imagine Gnats! The perfect pant! I didn't do the welted pocket; I ended up adding traditional patch pockets on the back, as you would see on a pair of jeans. Once you get the fit worked out, you will be stoked that you made these! I have more fabric to make a few more pairs; these will now be my go-to pattern for pants!
#02
This super cute and mod top will be a perfect match to a few of the staples listed above. I love the funnel neckline and the sleeve options. This really could be the top of your dreams! All of Christine's patterns are made with the new to advanced sewist in mind. Easy to follow and to size isn't that hard to fit!
#01
Made by Rae – Josephine Blouse & Tunic
I can not tell you how many Washi Dresses I have done. Rae's patterns are easy to follow, easy to sew, and have fantastic finishing tips! This top is extremely versatile. , Depending on the fabrics, you can dress it up or down and layer this top! Tunic, Blouse, or tank, there are a few looks from one pattern.
What will you do now?
However, now that you have all these unusual patterns to choose from, what will you be making next? Do you have a favorite fall/autumn trend that I missed? Leave a comment below sharing your favorite makes and patterns! Therefore, if you enjoyed this roundup, check out the one below!
Disclaimer there are a few affiliate links with fabric choices, however none with the patterns. I stand by the companies that I noted and the designers. Also, I have personally made at least one design from the designers.