Wedding Cake Topper – Tutorial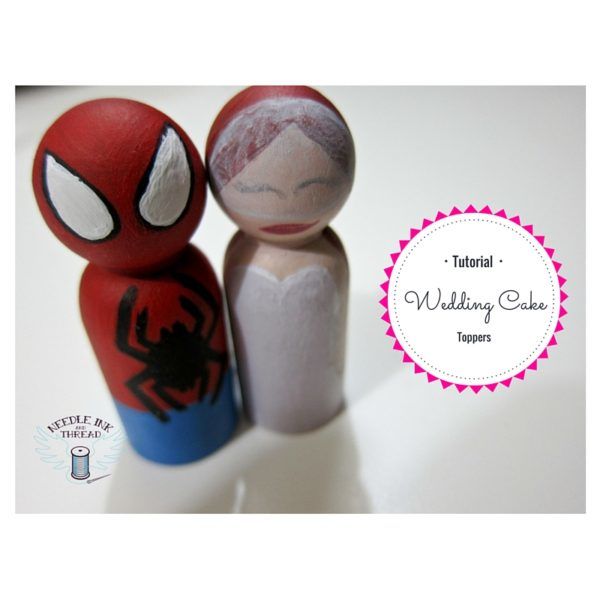 Wedding Cake Topper – How to Make Your Own!
When I got married a few years ago, I knew I wanted to make my wedding cake topper. The reason, Jermie and I wanted a Spiderman and Mary Jane topper. We could never find the right action figures, so the only option was to make them or buy them from Etsy. I chose to make my own! But as I was putting ideas together, I thought about all the other DIY brides; and figured this could be something that could lend itself to a great tutorial!
A fun way to make something unique and fresh!
Supplies

for wedding cake topper

A pack of blank wooden people

Acrylic Pain
t (non-toxic)
Paint Brushes
Pencil
Photo references for your design (if needed)
Let's Get Started!
Pick out how many "items" you would like to have on your cake. I chose 2 one for Mary Jane and one for Spiderman.
Lightly sketch out your design on the wood. Then start to build your first layer is your base color layer. I filled in the blue and red for Spiderman and the flesh color and hair for Mary Jane. Try not to layer the paint too thick.
3. Next, start filling in the details, the clothing, the textures, the more critical, less fine details.
4. Finally, the last details. Faces, decals, symbols, and smiles.
The painting took about 2 hours to complete, depending on your design and the details you chose to incorporate. This cost about $6.00, and if you have everything in stock already, it could cost you nothing!
It was a great way to personalize something in my wedding that meant a lot to the two of us!
The figures are adaptable for any party that needs a fun and unique topper!
Such a fun and different way to present something new doesn't take a ton of time or artistic talent. It is could even be adapted to paint your family!
Let me know what you end up making!
XOXOX – Jesy
Final words:
The entirety of the blog is my opinion and no monetary compensation in any way for my review or recommendations.
I believe in blog transparency and letting you know everything that goes into making or creating content.
Any products that I mention or patterns that I use; I will give full credit to the publisher, designer, fabric company, etc.
Please also note there are affiliate links that help run this blog. Thanks for your support!