Rayon – Art Gallery Fabrics Newest Substrate – Dress it Up or Down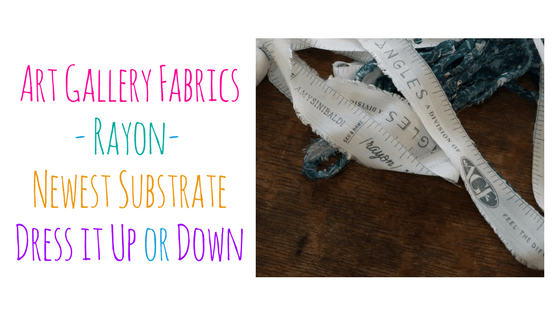 Rayon!
Welcome! I am so giddy with excitement to be asked to join in with the Rayon Blog Hop!  Featuring Art Gallery Fabrics newest fabric substrate, Rayons.. soft, buttery, and drapes beautifully. It's a material I want buried in; I mean, seriously, have you felt this fabric!?
I purchased the Hey June – Cheyenne Tunic with thoughts of using Art Gallery denim; however, when I asked to hop along with this blog hop,  I knew that the hand of this rayon would lend beautifully to the style of this garment. Also, it would be perfect for layering since it gets colder here in the winter. I can pair it with a cute cardigan or a blazer and still be warm and fashionable! 
I chose to work with Winterberry Pine by Amy Sinibaldi; the beautiful deep winter tones pair perfectly with my skin and don't clash with my ever-changing hair color. The small print is not a "LOOK at me print" but a nice "here I am," which is entirely me!
Tips for Working with Rayon
Ok, since I mainly sew garments, I decided to share some tips for working with this fabric; it's a little slinky but not hard to use.
First and foremost, do not forget to wash it first; it does shrink a little but not a lot, just like all the other fabric from Art Gallery Fabric that you love! Then make sure to try not to handle the fabrics too much, this material tends to "grow" a little when treated excessively, and grainline.. make sure you're on grain!
Pin, Pin, Pin, and can I repeat it. PIN! Use superfine pins if you can; I love these from Clover
 1-7/8″ Glass headpins. 
As a result, these will save you from that little shift that can happen with the natural physics of the sewing machine; if you sew garments, you know that shift can cause some issues. Please resist the urge to pull your fabric as you sew; just let those feed dogs do their job. Besides that, always use a brand new needle when sewing on finer fabrics. I used a Schmetz Microtex
size 11.
Also, before hemming your project (if it needs to be hemmed), let it hang overnight; gravity will shift the fabric.
Don't let the drape of the fabric detour you from this fantastic substrate; there is more to try out there than cotton; this fabric is a great way to show your shape with a soft silhouette. No boxier tops/dresses for you! You will want to make all the clothes with this!!
Get out there and try it,  and as always, if you run into a snag, send me a message.  I will try to help you out!
Don't forget to stick around all this AND next week for the rest of the #AGFrayonbloghop. I'm so excited to check out all of the projects alongside you!
MONDAY

, OCTOBER 9 – CRISTY – Instagram – LOVEYOUSEW | Blog here
TUESDAY, OCTOBER 10

– NICOLE – Instagram – MODERNHANDCRAFT | Blog here
WEDNESDAY, OCTOBER 11

– SARAH – Instagram –

SARIDITTY

| Blog here
FRIDAY, OCTOBER 13

– DANYELLA – Instagram MADESEWMODERN | Guest Blog here
MONDAY, OCTOBER 16

– Instagram WILDBOHO | Blog here
TUESDAY, OCTOBER 17

– CYNTHIA CNYTZ51 | Guest blog here
WEDNESDAY,

OCTOBER 18

– VICKI – Instagram ORCHIDOWLQUILTS | Blog here
THURSDAY, OCTOBER 19

– AMANDA – Instagram – PINKMANDARIN.HANDMADE | Guest Blog here
FRIDAY, OCTOBER 20

– JENN – Instagram – JENNROSSOTTI | Blog here