COVID-19  virus – Steps to keep you safe!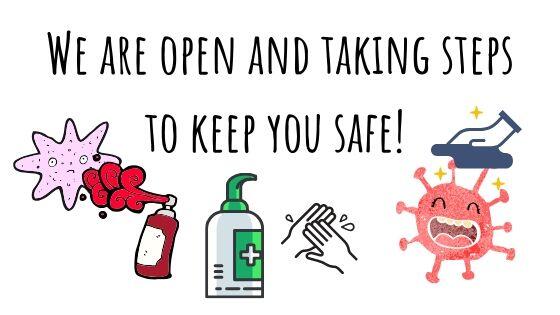 Eek! What are you doing about the COVID-19  virus
I wanted to take a moment and talk about the studio to keep the COVID19 virus at bay and keep you and your children safe. Having stocked up on the proper cleaning supplies, and will be making hand sanitizer. There will be wiping down the entire studio, handles inside and outside, and every surface.
Sinks and soap for kids and adults to keep their hands and face safe, tissues for sneezing and coughing. I don't have to close the studio down at any time. Also, if you are not feeling well, please contact the studio; we will work with people as much as we can without jeopardizing the business.
Small businesses during COVID-19  virus outbreak
At this time all small businesses are quite frankly freaking out. Because we do not have the capital that a large corporation does.
Check to see how and what your local small businesses are doing, and try to support them if you can before the big box stores. Ohio has had many tragedies this last year (tornados, KKK, Mass Shooting, Government Shutdown), not a virus that spreads. I promise I will do all I can to keep your kid or you healthy in my shop. I hope to see you soon and to make art together!
More helpful info to keep you healthy
Here is a FANTASTIC (click here) article on how to keep yourself safe and some precautions you can take. For example, washing your hands with warm water and soap for the full alphabet 2 times or cover your mouth when you cough, sneeze, etc. Also, avoid big crowds at this time and stay home if you don't feel well.
Be safe, Be smart, and do your part!