Scout Tee – Grainline Studio – Indie Pattern Review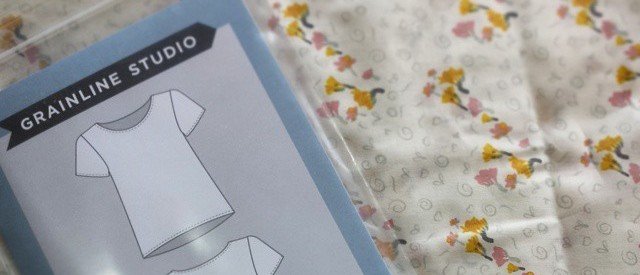 Scout Tee by Grainline Studio
At Sew Dayton, we order some of the most amazing patterns, Grainline Studio is just one of the many independent labels we carry.  The super fun and easy Scout Tee is just what I needed to make with this beautiful voile sent to me by Sara Lawson of Sew Sweetness!  The Scout Tee is great for woven and knit fabrics, amazing fit, and is easy to sew.
Two years ago,  I made the Tiny Pocket Tank from another Art Gallery Fabrics voile and loved everything about it!  When we decided to start carrying Grainline Studio patterns at Sew Dayton Needle, Ink and Thread, it was because we wanted patterns that are great staples for your wardrobe and comfortable, yet fun for the beginner seamster to sew up.
The links above will take you directly to the PDF pattern! You can buy it right off the website and tape it together.
I used Art Gallery Fabric cotton voile called Bous Trail Warmet, which has 100% cotton and is 52-53″ width. Designed by Sara Lawson of Sew Sweetness, fabric line called "Fantasia."
Sara did a call out for sewers, asking for help sew some samples up with her beautiful new line of fabric. I chose to make my first Scout Tee with her material and me over the moon and honored to help out.
Metrosene color 0536 Poly Thread – great color for the little hint of green in the fabric.
Making the Scout Tee – Let's Get Started
Scout Tee – Purchased at Sew Dayton ($16.75)
Pattern Tracing Time: 35 minutes
Cut time: 30 minutes
Sew Time: 1.25 hours
Difficulty: Easy
Size: 6
Supplies needed:
Here are the pattern fabric suggestions: Light to Medium weight fabrics such as cotton, silk, lawn, voile, chambray, charmeuse, crêpe de chine, or wool crêpe.
Pattern Difficulty: Beginner
First thing's first, make sure to prewash your fabric. This fabric is 100% cotton; it did shrink a bit, about 1/2″. I usually wash it with a worst-case scenario, hot water wash and medium heat tumble in the dryer. I know that if it gets hung up with the other clothing, I do not have to worry about any extra shrinkage.
Next, I measured my bust, waist, and hips per pattern; Choosing a size six from the finished measurements.
I prefer to trace my paper patterns, this allows me to do any alterations to that pattern, and I still have the original. I like the peace of mind it gives me tracing patterns, just retrace and not have to freak out if I needed another size and pattern is already cut.
This pattern has a total of 5 pieces; 2 sleeves, front, back and bias tape.
Seam Allowance is not the typical 5/8″; it's a 1/2″. Always, make sure always to check the instructions about seam allowance especially when sewing an indie pattern. They do not always follow the standard 5/8, and this could make your finished garment not fit as planned.
Construction of this garment is very straightforward; the pattern instructions are easy to follow with great illustrations.
This pattern is a fun and easy pattern to have in your collection. It's the perfect amount of casual and fun! Will be fun to make out of stretch knit next time!
Highly recommend any level seamster to try this pattern out, there are so many ways to embellish overall look.
Dress it up or dress it down, it's a great staple pattern to own!
XOXO- Jesy
Have you made the Scout Tee yet? What are your thoughts? Any tricks?
Final words:
The entirety of the blog is my opinion, and no monetary compensation in any way for my review or recommendations.
I believe in blog transparency and letting you know everything that goes into making or creating content.
Any products that I mention or patterns that I use; I will give full credit to the publisher, designer, fabric company, etc.